Tens of thousands of holidaymakers returning back to Ho Chi Minh City after a long weekend holiday caused severe traffic gridlock in all the entry roads leading into the City on September 4.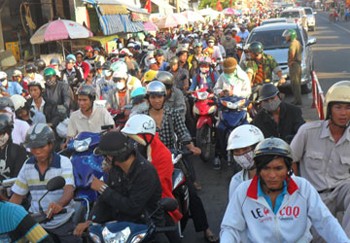 Holidaymakers returning to HCMC cause a huge traffic gridlock at the entrance to Cat Lai Ferry in District 2 (Photo: Phapluat)
The increased number of vehicles on the Hanoi Highway, particularly on the section in front of Suoi Tien Tourist and Culture Park caused a severe traffic jam after 4pm on September 4.
As the road section here is comparatively narrow, even though it has several bus stations located below the Suoi Tien pedestrian flyover, the traffic jam worsened by the evening, with commuters jostling for space and traffic crawling inch by inch.
Traffic gridlock also occurred in surrounding areas of the Mien Dong and Mien Tay Bus Stations, what with the increased number of buses plying from holiday routes and hundreds of holidaymakers returning on their own motorcycles.
Thuong Thanh Hai, director of the Mien Dong Bus Station said that on September 4 alone, about 1,500 buses had been deployed to transport 40,000 passengers.
The police in Hanoi was also left to cope with huge traffic gridlocks in many places and thousands of cases of road safety violations, all through the National holiday on September 2 and the entire weekend. Over 5,000 traffic violators were fined up to VND1.5 billion (US$71,000), mostly for not wearing helmets when driving motorcycles.