Tens of thousands of people living in Ho Chi Minh City flocked to bus and train stations on Friday, to buy tickets to return to their hometowns or go on vacation for the four-day Reunification Day and May Day holiday.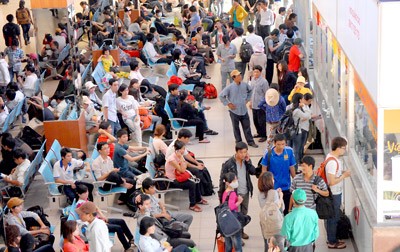 Passengers wait to buy tickets at the Mien Dong Bus Station in HCMC on April 27 (Photo: SGGP)
Since 5pm, the number of people queuing for tickets at the Mien Dong Bus Station began to grow, crowding parking lots and ticket counters. Several transport companies announced very early of full bookings.
At the same time, thousands also flocked to the Mien Tay Bus Station and Saigon Railway Station to buy tickets.
Saigon Railway Station management said that they had increased an extra 11 train trips on the Saigon-Nha Trang route to meet the heavy demand.
Bus and train station management predicted that the passenger numbers would peak by Saturday.
In related news, bus stations in Hanoi are now cramped with passengers causing massive traffic congestion and chaos near the bus stations on Giai Phong and Pham Hung Streets.
Similar conditions also prevailed at the Hanoi Railway Station on Friday afternoon, even though the station has increased an extra 12 train trips to Lao Cai, Quang Binh and Nghe An Provinces and Hue and Da Nang Cities.