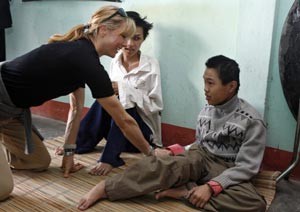 Tea Leoni visits disabled children in Da Nang (Photo: AFP)
Hollywood star Tea Leoni, visiting Viet Nam as a UNICEF ambassador, on Thursday kicked off a campaign to raise awareness about the plight of children suffering disabilities linked to Agent Orange.
Leoni this week visited families and health centers with children suffering birth defects linked to dioxin, the highly toxic chemical in the defoliant that the US military used here during the Viet Nam War.
"The (US) public, I think, is not aware of some of the specific dioxin issues," the 42-year-old star of "Deep Impact" and "Jurassic Park 3" told reporters at the end of her five-day visit.
"I think there is great compassion from the US and its citizens (and a desire) to want to bridge whatever gap there may be remaining from our time here," said Leoni.
"As a mother, it is a very intense experience to visit with another mother and see her caring for children who are so in need of support and care."
The UNICEF United States Fund aims to raise two million dollars this year and up to five million dollars in coming years to help Vietnamese children with dioxin-linked and other disabilities, said the group's president Caryl Stern.
US forces sprayed about 80 million liters of Agent Orange and other herbicides on south and central Viet Nam to deprive opposing forces of forest cover and food crops.
Washington has rejected responsibility for the millions of people Viet Nam says have suffered direct or second-generation disabilities due to Agent Orange. US officials point to a lack of mutually agreed data.
"I'm not a scientist, I'm not a medical professional, and it has not been proven or disproven to me," said Stern.
"What I see in front of me are children who are disabled in a disproportionate number in the areas where dioxin is at those higher levels."
The United States has funded efforts to clean up a dioxin "hot spot," the Da Nang airport, while Congress last May set aside three million dollars for environmental remediation of dioxin storage sites and for health programs.
A US court last month rejected a case brought against US chemical companies that manufactured Agent Orange and other defoliants.
UNICEF country chief Jesper Morch said the Vietnamese government last year asked the United Nations to help address the environmental and health impacts.
The money raised in the new awareness drive, with help from the Ford Foundation, will help collate data and boost services for tens of thousands of disabled children, linked to Agent Orange or not, Morch said.
Pointing at the current shortage of services, skills and equipment for families and teachers in the developing country, Morch said, "You have teachers working with deaf and mute children who don't know sign language."
In the central city of Da Nang, he said, "Of 64 communes, there is only one commune that has even the semblance of an adequate rehabilitation center, with trained physiotherapists and the tools and equipment disabled children need."