Minister of Home Affairs Nguyen Thai Binh said that the ministry will seek government's assessment to adjust the functions of governmental agencies and the cooperation between them for better state services.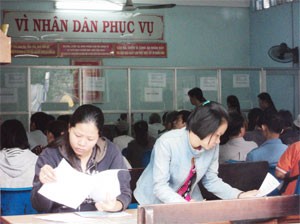 A banner reads 'For people, we serve' at the back of a state office in HCMC. Minister of Home Affairs Nguyen Thai Binh has called for more public observation over state offices' service (Photo: Minh Tri)
Binh, who has been elected to the post after serving nearly one year as the Deputy Minister, said that he understands clearly the challenges awaiting him in the new job.
 
The new minister said he will continue unfinished jobs from the previous term of the ministry, focusing on some big issues.
He said the ministry will cooperate with concerned authorities to consult the government on the function arrangement between ministries and other governmental agencies so far.
Several ministries have been designed for multiple functions, including multiple sectors, thus there should be some assessment about the cooperation between related agencies, as well as proper work division between each ministry, Binh said.
The public as well as many National Assembly deputies have been concerned that too much division within a ministry might adversely affect big state projects and cause unnecessary spending to the state budget.
Binh also admitted that too much work distribution in a unit will lead to problems, but he said the ministry will keep tight observation to fix any errors possible.
He added that the ministry will urgently carry out projects to improve the capacity of human resources at state-owned agencies.
"The staffs at state-owned agencies play a very important role and they need attention immediately as well as for the long term," Binh said.
While offering training courses, the agencies need to keep a close watch to promote any talented, devoted workers and punish bad performers, he said.
The minister admitted that the officials have not been managed properly so far and that the government has yet to set up a database to better the management.
He called for increasing the supervision of organizations, businesses and the public over the ethics and service quality of state-owned officials.
Binh said the minister will also carry out laws concerning state-owned workers, especially regulations about their positions and rankings.