Hundreds of homes built to house displaced residents along coastal areas in the Mekong delta province of Ca Mau stand vacant or have fallen into disrepair.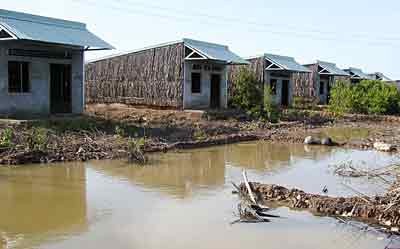 Homes built for displaced residents in the Mekong delta province of Ca Mau sit empty. Most residents say it is impossible to earn a living in the new area and have left to find work. (Photo: SGGP)
The residents, forced to relocate after development projects encroached on their land, say the compensated homes do little good as they can't make a living in the new areas.
In Ca Mau's Ngoc Hien District, 86 houses were constructed for residents along Rach Goc Coast after they were displaced by construction projects. However, just 42 of the new homes are occupied while the rest sit empty. 
Concerned agencies used to provide the residents with poultry and pigs for breeding, but it was not enough for people to eke out a living.
Many have refused to live in the homes and left in search of work elsewhere.
Facing abject poverty and potential starvation, some locals headed for coastal areas while others retreated to the jungle to hunt animals and pick fruit. Some have also tried to sell their houses.
Mr. Le Van Hoang and Ms. Mai Thanh Giang said they bought homes in the area at VND19 million and VNĐ9 million respectively from the original owners. Mr. Hoang said the first owner sold the house because he couldn't find work.
Ms. Giang added that the previous owner of her house had never even stayed there. Meanwhile, woodworms have now attacked tens of houses left empty.
Ta Hoang Phong, head of the village O Ro, confirmed the situation. He doubted whether anyone would be able to stay long in the area, as they were unable to sustain a living.
The chairman of Ngoc Hien District People's Committee, Le Van Su, said that while the government endeavored to create new homes for the resettled inhabitants, it failed to address whether they could also establish livelihoods in their new environment.