Vinh Long Province's Radio and Television Station, or shortly Vinh Long TV, launched Saturday a new charity program that is financing the construction of 1,000 houses in two years and provide microfinance for poor families in the Mekong Delta province.
The microfinance includes providing cows for the needy this year and 2012 to help them do family business, Vinh Long TV director Le Quang Nguyen said at the launching ceremony, held in the province also to review the finished charity program 'For Dreams to Take off'.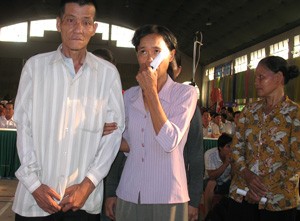 Some poor people in the program 'For Dreams to Take off' join the ceremony in Vinh Long Province on June 4, 2011 (Photo: Tuong Thuy)
'For Dreams to Take off' has built 104 houses worth 2.6 billion Vietnam dong [US$130,000] for the poor in Vinh Long and other Mekong provinces such as Hau Giang, Ca Mau and Long An, Mr. Nguyen added.
"I may say that all the 104 households in 'For Dreams to Take off' I've known in the past two years have lived in pitiable misery. They all work very hard but their life is very unhappy without a home. Given with the unsettled life, the dream for a real home is so far away.
"Therefore, a home for them from the program is a very unexpected present in their life. Smiles in 'For Dreams to Take off' always go with tears, tears of happiness, tears of the whole life in which they first possess a real home," said the Vinh Long TV director.
He also thanked the exclusive sponsor in the program – 4 Oranges Co., a Thai paint manufacturer based in the Mekong province of Long An.
Addressing the ceremony, where Vinh Long Province leaders were present, 4 Oranges chairman Smit Cheancharadpong said, "We find our heart warmer to work with the local government to contribute and build houses for Mekong Delta families facing housing problems.
"In this occasion, 4 Oranges company also brings 104 scholarships of 2.5 million Vietnam dong each to children of the 104 families joining the program," Mr Smit added.
Mr. Nguyen Van Thanh, deputy chairman of the Vinh Long Province People's Committee, and other provincial officials handed out the 104 scholarships during the ceremony, which also saw the presence of Mr. Nguyen Van Diep, the province's Party chief and chairman of the People's Committee.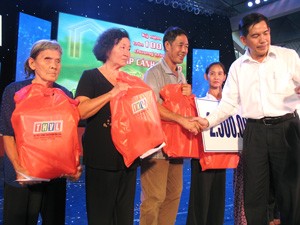 Vinh Long Province People's Committee deputy chairman Nguyen Van Thanh (R) presents scholarships to the poor families during the ceremony in the province on June 4, 2011 (Photo: Tuong Thuy)
Vinh Long TV Director Nguyen said 'For Dreams to Take off' is now followed by 'Humanitarian Vehicle'.
"A house is not yet enough. The poor still need microfinance to do family business. This is the reason of 'Humanitarian Vehicle'. It is another journey to further support them."
4 Oranges Company will continue sponsor the program, Mr Nguyen said, adding that the other corporate sponsors are the Vietnam Bank for Industry and Trade (VietinBank) – Vinh Long Province Branch, and Phu Nong Company.
Vinh Long TV spectators have donated more than VND700 million (US$35,000) to the 'For Dreams to Take off' program, he said. "We expect our spectators to continue to make donations to the 'Humanitarian Vehicle'. We've collected almost VND30 billion [nearly US$1.5 million] through all our charity activities over the past two years."