The water level of the Hong (Red) River has dropped alarmingly, seriously affecting agricultural production and waterway traffic in Hanoi and northern provinces, said Dang Ngoc Tinh, head of the Northern Hydrographic Department.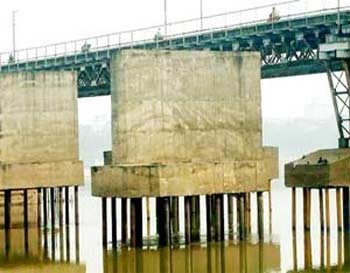 The sharp recession of the Hong (Red) River has exposed the foundation of the Long Bien Bridge in Hanoi. (Photo: SGGP)
Normally, the Hong River and other rivers in the north see a drop in volume in February or March each year, but this year has seen it recede sooner and more dramatically.
In particular, the area between the Long Bien and Thanh Tri bridges in Hanoi has seen much lower levels than normal.
On average, upstream levels of the river in November were 0.73 meters lower than the annual average, said Luu Minh Hai, deputy head of the Lao Cai Hydrometeorology Forecasting Center.
The water level measured on November 3 in the Long Bien section was 0.76 meters high, lower than the 0.80 meters in 2008.
It is the lowest level recorded in the past 200 years.
Several sightseeing boats in the capital have had to suspend operations, as many sections of the river are now too shallow to travel through.
Nguyen Thi Lan Chau, deputy head of the National Center for Hydro-meteorological Forecasting, said the current dry season could mean that water levels stay low for the next few months.
The north has seen little rain for many weeks, contributing to the problem, said Mr. Tinh.
In November, water circulation in the Hong River decreased by 57 percent and this month may see a decrease of more than 60 percent, he said.
Mr. Tinh warned that the lack of water for farming activities would get worse in the coming dry months, especially in February and March 2010.
To address the issue, the Ministry of Agriculture and Rural Development recently organized two meetings to discuss solutions to the dilemma.
The ministry asked affected provinces to reserve water and take measures to minimize damage caused by the drought.