Water levels in the northern Hong (Red) River have this year seen the most severe drop of the past century, according to the National Center for Hydro-meteorological Forecasting.

A sharp recession December 29 exposed the foundation of the Long Bien Bridge in Hanoi. The water level here measured just 0.66 meters while it was 0.76 meters on November 8 – the lowest level recorded in the past 107 years.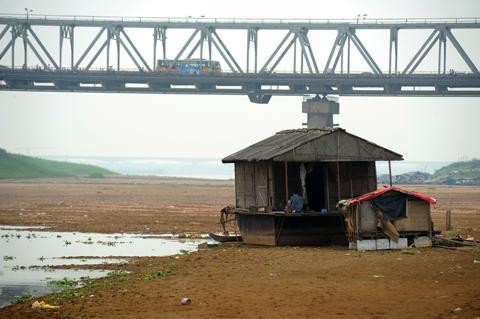 Red River suffers from drought during the dry season
The river, which runs through the northern province of Lao Cai and past Hanoi, generally drops in February or March each year, but this year has seen it recede sooner and more dramatically.

The decreased water has led to traffic jams in the river with boats forced to suspend operations, as many sections of the river are now too shallow to travel through.

Officials say the tide has ebbed because hydroelectric reservoirs in Tuyen Quang, Thac Ba and Hoa Binh are reserving water for the upcoming dry season and for use in agricultural activities in January.