After a 2.1 kilogram piece of gold was found at the Cha Ha River in the northern-central province of Nghe An, hundreds of local residents have swarmed the area.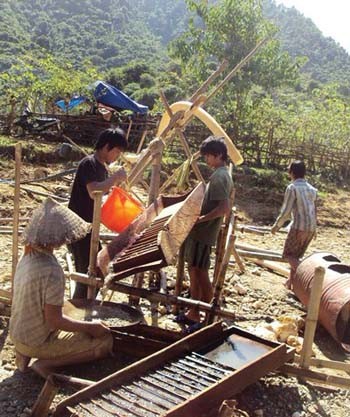 Residents of Nghe An Province sift for gold on the banks of the Cha Ha River (Photo: SGGP)
Authorities in Tuong Duong District said that two months ago, a group of nine people from the Hao mountain village in Yen Hoa Commune came looking for gold at Bu Rivulet, a branch of the Cha Ha River.
The group struck fortune when they found the large chunk and sold it for VND1 billion (US$54,000) to a gold shop in Hoa Binh town.
News of the group's find spread quickly and local residents rushed to the river hoping to discover similar wealth.
Regardless of the weather, masses of people including children and the elderly, head to the river each day.
Around 20 gold-sifting operations have now been set up by the locals along a 20-kilometer section of the river, located about 40 km from the town.
Ms. Luong Thi Tinh, a woman from the Hao village who pans for gold, said her family was poor and they hoped finding the precious metal would bring them a better life.
She said Mr. Oi, one of the nine people who found the 2.1 kg piece of gold, had just built a new house with the money he had come into.
Gold seeker Vi Van Nhoong said that he bought tools to pan for gold over a year ago, and five out of his 10 family members search for the metal daily. If they were lucky, he said, they could find up to one gram of gold a day.
In their zeal for fortune, the residents have dug up the riverbanks, leading to serious landslides in some areas.
Ho Hoai Thom, chairman of the district's Yen Na Commune People's Committee, said that his commune has around 10 gold sifting machines, 10 families who pan for gold full-time, and around 100 other seekers of whom some are hired by families who own the machines.
Because local residents are so poverty-stricken, authorities say they allowed them to continue the practice. And despite causing the hazardous landslides, the residents were only issued warnings.
But at the beginning of October, the district ordered the locals to stop and began issuing fines.
Kha Van Ot, head of the Tuong Duong District Department of Natural Resources and Environment, said that most gold seekers are working without licenses at the river, and despite the order, they continue to pan for gold.
The department and district authorities are now discussing measures to deal with the issue.