The Department of Health in Can Tho City revealed that tons of potentially dangerous medical waste like bottles, syringes and medicine samples are being dumped indiscriminately from medical clinics and hospitals in districts Ninh Kieu, Cai Rang and Binh Thuy in the Mekong Delta Province regularly.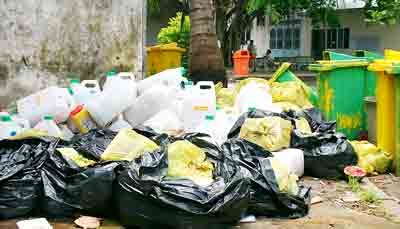 Medical waste dumped in the General Hospital Can Tho town (Photo: SGGP)
Earlier, waste from hospitals in the province was treated at the Central General Hospital, but now the old facility lacks the capacity to treat the increasing quantity of waste. The environment body has now imposed a penalty on the hospital, which is currently upgrading its waste treatment facility.
As a result, hospitals in the province signed a contract with the Sao Viet Waste Treatment Company for recycling waste at an exorbitant   VND25, 000 per kilogram.
Since July this year, Sao Viet suddenly stopped collecting the waste without giving any clear reason, which left the hospitals high and dry. The General Hospital in Can Tho town, one of the most crowded hospitals in the region, was left to deal with 300 kilograms of waste per day.  Other hospitals of the province also faced a similar plight.
Le Van Chi, head of the environment department in Can Tho said there is an urgent need to invest in medical waste treatment facilities in the province at the present moment.

Doan Anh Luan from the Department of Health agreed that investing in a waste treatment facility for hospitals is top priority as it directly affects the community health. Luan admits that due to shortage of waste treatment facilities in the province, most hospitals and medical clinics resort to burning their waste or burying it in dumps.