Temperatures in the North and the Central regions reached a high of 37 degrees Celsius on Tuesday, or 38.3 degrees in some parts of the Central region, said an employee of the Southern Hydro-meteorological Forecast Center.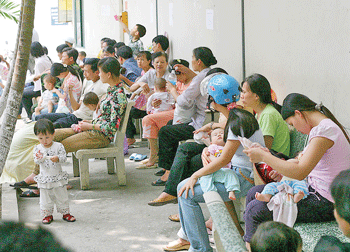 So many children are waiting for their turn to see doctors at the Central Pediatrics Hospital as the weather turns hotter
Further north, the mercury exceeded 38 degrees from Thua Thien-Hue to Thanh Hoa. In the northwestern provinces of Dien Bien and Lai Chau, it reached 37.2 degree Celsius.
Scorching weather swept through the northeastern provinces and the Red River Delta with highs of  37.4 degree Celsius.
Meteorologists have predicted that the North and the Central regions will continue suffer uncomfortable heat on Thursday and Friday. On Friday afternoon, a cold air stream will spread over the North, the center added.
Residents of Ha Noi tried to get away from the hot and sticky weather. They thronged into parks, refreshment bars, supermarkets and swimming pools in a bid to reduce the burning heat.
As Ha Noi sweltered, there was a sharp increase in the number of patients at hospitals, especially children and seniors.
The number of seniors accepted at her hospital increased to 150 a day and her staff was overloaded with work, said Ms. Thi Khanh Hy, deputy head of the National Institute of Geriatrics.
The number of older residents hospitalized for fever, breathing problems and diarrhea in the North increased sharply as the weather turned hotter. There are now over 1,000 infants in the Central Pediatrics Hospital. Moreover, there has been a surge in the number of encephalitis and hand-foot-and-mouth patients.