The five-star hotel Equatorial in Ho Chi Minh City is seeking to bring some funding and smiles to disadvantaged children here via a charity program throughout this month.
An exhibition of Christmas wreaths, named "Dolls Paradise" reflecting joy and happiness of children around the world, is for sale at the hotel's lobby during December. The wreaths were made by students of the Fashion Design Class of Bach Viet College and University of Technology Ho Chi Minh City.
Equatorial general manager James Montenegro says half of the proceeds will go into a fund for disadvantaged children, and the other half will be given to School for Deaf Children Anh Minh, Hy Vong 1 School, School for Blind Children Nhat Hong, and Gia Dinh School for Disabled Children.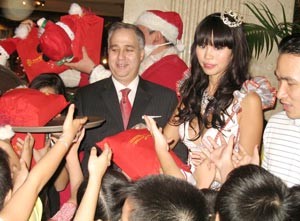 (From R) Actor Chi Bao, fashion model Ha Anh and Equatorial general manager Montenegro present Christmas gifts to children invited to the hotel's Xmas tree lighting ceremony on Dec. 10 (Photo: Thuy Nguyen)
The donations will be used to fund next year's making of Christmas wreaths and to train the students.
The Equatorial invited 80 disadvantaged children of the Gia Dinh School, Hoa Binh Village and the Ky Quang Orphanage to a festive dinner which was part of the hotel's annual Christmas tree lighting ceremony on Dec. 10. General manager Montenegro, Equatorial ambassadors – fashion model Vu Ha Anh and actor Chi Bao – and staff presented Christmas gifts to the children.
Hoa Binh (Peace) Village, located in Tu Du Hospital, is home to more than 60 disabled children. Most of them have serious physical and mental defects.
Ky Quang Orphanage inside Ky Quang Pagoda in Go Vap District provides a home and vocational training for orphaned, handicapped and HIV infected children from newborn to 17 years of age.
Gia Dinh School for Disabled Children specializes in training of mentally disabled children and helps them develop skills and integrate them into the society.