The National Assembly (NA) on Wednesday approved building the country's first nuclear power stations, a project keenly watched by potential foreign partners.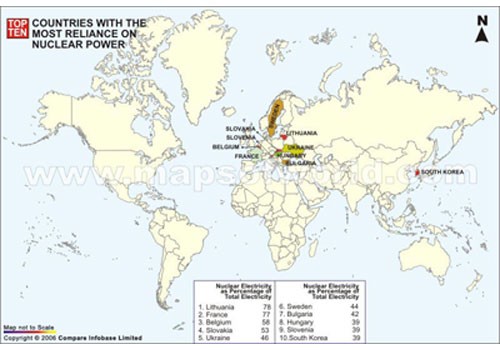 Contries with the most reliance on nuclear power
The "draft law on nuclear electricity" was approved by 77 percent of deputies present in the NA,
Deputy Nguyen Minh Thuyet who is one of the members critical of the project described debate in the chamber as "lively" as some deputies preferred the idea of building just one power station, rather than the plan finally approved for four reactors at two sites.
According to the government's plans, at least one reactor should be operational from 2020. Together, the four reactors should have a capacity of 4,000 megawatts.
The intention is to meet the energy needs of an economy that is growing annually by an average of 15 percent.
The plan is that nuclear should initially account for under five percent of Vietnam's electricity production, but by 2050 should meet as much as 30 percent of the country's power needs.
Critics have objected that the country lacks workers qualified to operate the plants, that legislation is not adequately developed and that there are holes in the planned security arrangements, notably relating to nuclear waste.
Some deputies have also objected on environmental grounds, particularly at the proposed siting of the plants in the southern province of Ninh Thuan, home to a nature reserve known for its sea turtles.
"Vietnam is not yet ready" for a project that carries "significant risks" and for which "the economic rationale is weak," said Mr. Nguyen Minh Thuyet.
The deputies also approved an initial budget of at least 11 billion dollars for the project.
Several foreign countries have shown interest in participating, including China, France, Japan and Russia and to a lesser extent Republic of Korea and the United States.
On the same day, the NA also retified amendments to the country's Law on Education, Natural Resources Tax Law and Project of Lai Chau Hydropower Plant