The National Assembly Standing Committee began its 23rd session today with a discussion on the Natural Resources Tax Bill and Property Tax Bill.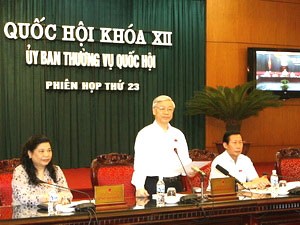 National Assembly Chairman Nguyen Phu Trong speaks at the opening of the 23rd National Assembly Standing Committee session on September 9.
At the opening, Minister of Finance Vu Van Ninh presented the draft law on tax payable on natural resources.

It clarifies the existing ordinance and spells out in detail the basis for calculating and waiving the tax.

The Finance and Budget Committee said the amendments and supplements to the draft law do not fully meet the requirements for upgrading the ordinance into a law.

Phung Quoc Hien,head of the Committee, said: "Regulating tax rates is an essential aspect of any ordinance on tax. But the bill only has tax ranges and leaves it to the Government to fix the rates."

The law should authorize the NA to decide the tax ranges and the NA Standing Committee to specify the actual tax rates, he said.

In future, the law has to spell out the exact tax rates for all natural resources, opine enterprises and individuals, he added.

Some Standing Committee members called for taxing more resources like air, historical relics, and natural sites. But many others said conditions are not yet appropriate for doing so.

The session will last for ten days.