The 22nd session of the National Assembly Standing Committee opened in Hanoi on August 11 with members debating a number of bills, including one on telecommunications.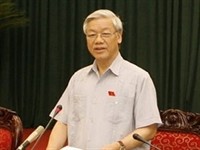 National Assembly Chairman Nguyen Phu Trong presides over the 22nd session of the NA Standing Committee in Hanoi on August 11
They focused on sharing and use of the telecom infrastructure, market competition, establishment of a public telecom fund, and other issues.
Many delegates said the sector's development and management has been uneven in recent years, resulting in inefficient use of investment and public dissatisfaction. To make full use of telecom resources and prevent waste, they said telecom operators should share their infrastructure.
Some wanted the law to be amended, allowing the Government to build the infrastructure and lease to businesses.
But the NA Committee for Science, Technology and Environment said this would affect the effectiveness of investment and, more importantly, could see the birth of a State-owned monopoly.
They agreed on establishing a public telecom fund to benefit people living in mountainous and remote areas.
Discussing management of prepaid mobile services, the bill said subscribers' personal information must be protected and their money refunded in case of any fault on the part of service providers.
Minister of Information and Communications Le Doan Hop said the Police Ministry has developed an online system to issue ID cards. To effectively manage prepaid subscriptions, service providers have to wait until the online system is launched, he added.
Members called for setting up a department under the ministry for management of the telecom sector.
The bill has three articles more than an earlier version presented and discussed in May,