The 22nd session of the National Assembly Standing Committee ended August 15, with members discussing amendments and supplements to the Education Law.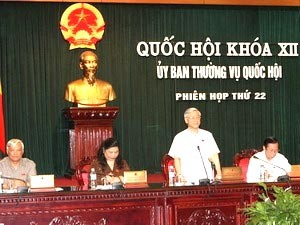 National Assembly chairman Nguyen Phu Trong speaks at the 22nd session of the NA Standing Committee in Hanoi on August 11-15
They pointed to a lack of documents guiding the enforcement of the law as a reason behind limitations facing the education sector in recent times.
The legislators said the law should be revised to help provide orientations for stronger reforms in the field, as well as changes in national policy on education.
 
Nguyen Van Thuan, chairman of the Law Committee, said the education sector should have focused on improving primary school curriculum and content which are too heavy for pupils.
 
Organizing and marking university entrance exams also need to be reviewed, he said.
 
One of the issues agreed was students who go into teaching will be offered preferential credits to pay school tuition and will not have to pay the credits back if they work in the education sector for a certain period after graduation, while currently they do not have to pay school fees.
 
At the closing session, NA Chairman Nguyen Phu Trong urged law-making bodies, including the compilation board and the examination agency, to quickly refine those bills that are nearly complete for submission to the Assembly at its sixth session.
Regarding the supervision work, NA Chairman Trong said a NA Standing Committee report on the issue should be comprehensive and persuasive.
The NA Chairman appreciated the quality of the question-answer session at this meeting and ordered concerned agencies to keep an eye on issues raised.