The efficiency of the Government's stimulus package and sustainability of economic growth were discussed October 27 by National Assembly (NA) deputies at their ongoing session in Hanoi.
Reviewing the year's socioeconomic performance and goals for 2010, most deputies agreed that the Party's sound leadership, the Government's flexible operation, the NA's efficient supervision, and formidable efforts from all sectors, have helped prevent an economic recession, maintain growth, and ensure social security.
With a rebound seen in industrial output, agricultural production and service sectors, this year's GDP growth is expected to reach 5.2 percent, the meeting heard.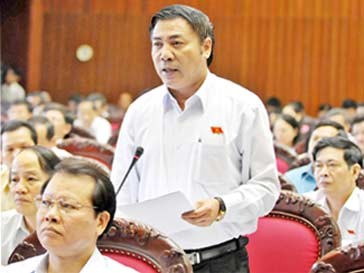 Deputy Nguyen Ba Thanh asked the Government to halt several of its less efficient national programs during the National Assembly's ongoing session in Hanoi on October 27 (Photo: SGGP)
Stimulus packages need fine-tuning

Deputies Tran Ngoc Vinh of Hai Phong City and Nguyen Thi Van of Ha Tinh Province, said the Government's stimulus package, including loan subsidies, had helped the national economy recover.

However, many small-and medium-sized enterprises (SMEs), cooperatives, and farmers could not take advantage of the subsidized loans.

The deputies partly blamed complicated and non-specific loan application procedures, a restriction imposed on credit growth, and banks' giving priority to more traditional clients.

In addition, the inappropriate use of loans by many borrowers, including using new loans to repay debts or depositing the money into a bank account to profit off the interest, was also reason for concern, some deputies pointed out.

Therefore, the actual efficiency of the package must be assessed thoroughly before the Government decides whether a second package should be introduced, they said.

Deputy Nguyen Van Thoi of Thai Nguyen Province suggested the first package, aimed at accomplishing short-term goals, be extended until the end of the first quarter of 2010 and the second, targeting long-term goals, should be maintained. 

In this manner, businesses just recovering from the economic slowdown can receive more support and continue rebounding, he said.

The Government should continue supporting SMEs, labor-intensive businesses, farmers and the poor by providing them with larger loans and easier application procedures, Deputy Thoi added.

Meanwhile, other deputies including Nguyen Ba Thanh of Da Nang City and Tran Hong Viet of Hau Giang Province, asked the Government to put a hold on the second package to ensure equal and healthy competition between businesses, prevent possible corruption in the banking sector, and reduce the budget deficit.

Deputy Nguyen Van Ba of Khanh Hoa Province said that if the second package goes ahead, it must be implemented effectively to re-structure and develop the economy.
Growth not yet sustainable

Discussing the country's economic growth, many deputies expressed concern over current weaknesses in the economy, including ineffective and wasteful investment activities.
Deputy Vu Quang Hai of Hung Yen Province gave an example, saying, "Vinashin, which set up tens of subsidiaries from the North to South, got loans up to US$750 million and bought a ship worth trillions of dong, but the ship broken down after just over a year."
Deputy Ho Quoc Dung of Binh Dinh Province pointed to a lack of coordination between provinces, cities and economic zones in developing the country's investment climate.
Instead of cooperating, they compete with each other in several areas including building their own deep-sea ports, universities, golf courses and airports, while their investment efficiency is low, said Deputy Dung.
Economic growth in recent years has been attributed mainly to increasing investment in industries that have an advantage in natural resources and use unskilled labor, many deputies pointed out.
Meanwhile, industries that use high technology and can help restructure the economy towards modernization have not seen satisfactory investment, they said.
"Excessive exploitation of natural resources such as oil, coal and non-recycled minerals is an indication of unsustainable development and we may pay a heavy price in the future for such exploitation," said Tran Hong Viet of Hau Giang Province.
"I demand that less-efficient national programs be suspended," said Deputy Nguyen Ba Thanh.
Growth should not be attained at any cost, it must be carefully considered and contribute to the sustainable development of the economy, said Nguyen Danh of Gia Lai Province.