Lawmakers debated the use of public funds and property by State economic groups and corporations at a plenary session of the National Assembly on November 9.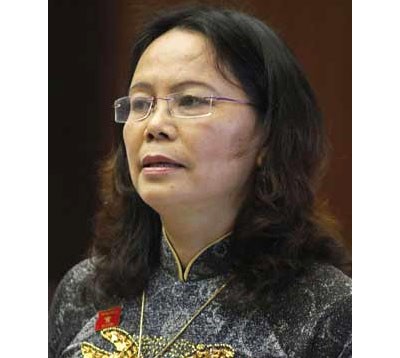 Deputy Pham Thi Loan of Hanoi speaks at a National Assembly session on November 9
Agreeing that the groups and corporations have contributed to economic growth, played an important role in the implementation of socio-political policies, and made profits, they said, however, they are unsatisfied with the vague evaluation of the corporations' "socio-political responsibilities" and "production and business."

Deputy Ha Thanh Toan of Can Tho said there is a need to distinguish between three types of groups and corporations to have separate policies for each.
She listed them as groups and corporations that operate in fields affecting national security and stability, those in major the economic fields, and those in areas benefiting social welfare.

Legislator Vu Quang Hai of Hung Yen said it is difficult for enterprises to comply with both administrative orders and the Enterprise Law since sometimes the two are very divergent.

Pham Thi Loan of Hanoi and Nguyen Dinh Xuan of Tay Ninh said State enterprises that have suffered losses for long need to be treated fairly.

Mr. Xuan said many State enterprises have grown so rapidly that the agencies running them and they themselves have not been able to manage them well.

Many should have opted for bankruptcy procedures under the 2004 Bankruptcy Law instead of continuing to incur losses, hurting the exchequer and affecting workers' interests, he said.

People to be held responsible for squandering away public funds have to be clearly identified, he said, adding there should be a mechanism to enable local authorities and the public to monitor State enterprises and prevent "negative activities."

Minister of Finance Vu Van Ninh said: "The Ministry has ordered enterprises to distinguish between business effectiveness and socio-political responsibilities during the process of accounting. But it appears to be a difficult task."

Many deputies said setting up the sovereign fund, the State Capital Investment Corporation (SCIC), was the right thing to do.

But Dang Nhu Loi of Ca Mau said the SCIC has yet to function effectively.

Another Ca Mau legislator, Mai Huu Tin, called for setting up an independent board to monitor investments in State groups and corporations, with the board members not being paid by these enterprises so that there is no conflict of interest.
Deputy Ma Dien Cu urged the Government to set up an agency to oversee the operations of its economic groups and corporations and issue a decree on the management of public investment.
State-owned businesses must first focus on their core competence before expanding into other areas, he said.
The NA's vice chairman, Nguyen Duc Kien, agreed that though operating in multiple areas is essential enterprises have to focus on their main businesses and responsibilities.
He called for passing a law on the investment and management of State funds.