Subsidies for short-term loans under a Government program to stimulate the economy and quality of growth were among the major issues members discussed October 22 at the ongoing National Assembly session.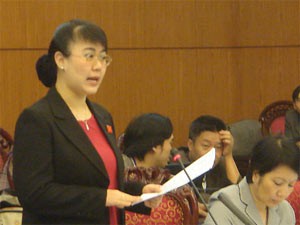 Delegate Nguyen Thi Nguyet Huong of Hanoi, speaks at the 6th National Assembly session in Hanoi on October 22 (Photo: VTC News)

Nguyen Ngoc Hoa of Ho Chi Minh City said: "The subsidized-loan program should not be extended but be terminated on December 31 as scheduled."
There has been an "inequality in the implementation of that policy, since just some businesses could get the loans," Nguyen Thi Nguyet Huong, President and CEO of the Vietnam Investment Development Group, said.
"The 4 percent subsidy on loan interest has caused a scarcity of US dollars. A number of borrowers have misused the loans, including using them to repay debts.
"On the other hand, such a large amount of money put into circulation for a long period may cause inflation."
Several other delegates also voiced concern that borrowers may have misused the loans.
When some delegates said that the package has helped revive the real estate and stock markets, Ms. Huong pointed out to them that this required evidence.

The chairman of the NA's Economic Committee, Ha Van Hien, said: "Only 20 percent of businesses got subsidized loans and there were cases where borrowers took the loans and deposited them in banks to profit."
He too called for terminating the subsidized loans program on December 31 and suggested that the Government should cut public spending to keep the budget deficit down to 6 percent instead of the proposed 6.5 percent.

Tran Du Lich of Ho Chi Minh City, an economist, said the quality of growth must be given more attention in 2010. Though the economy is stable, its growth is not yet sustainable, he said. Investment efficiency too has to be improved, he added.

Commenting on an ongoing campaign to buy Vietnamese goods, Dang Van Khanh of Hanoi said to make it a success businesses must turn out products of international quality at reasonable prices.
Nguyen Thi Minh Ha of Hanoi pointed out some problems related to education, healthcare, and traffic safety and called for measures to be taken soon to overcome them.
People suffer because hospitals, schools, and roads are all overcrowded, she said.
It is unacceptable to see parents waiting in line from early in the morning to apply for their children's school admission, she lamented.
Many people fear family members could be involved in accidents when they come home late from work, she added.
Do Huu Lam of Long An Province wanted the Government to tighten environmental protection and food safety regulations, while Ms. Huong warned about the quality of workers.
"For long, there has been a shortage of qualified workers. While many people are seeking jobs, businesses cannot get key workers because of the poor quality of candidates," she said. 
Speaking during a debate on the functioning of the Government apparatus, Nguyen Dinh Quyen of Hanoi said from 2010 the Government should report its operations to the NA.
The apparatus remains cumbersome and inefficient but the NA has never made a specific assessment of it, he explained.        
"We must consider if that apparatus is hampering development or abetting corruption," he said.