Lawmakers debated important issues related to the economic stimulus package and budget deficit at the fifth session of the 12th National Assembly on May 26.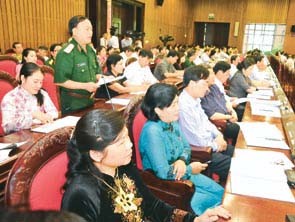 A view of the NA session on May 25, which focused on the economic stimulus and budget deficit (Photo: Nhan Dan)
Most agreed that the Government's economic stimulus has helped minimize the impact of the economic crisis.
Many deputies, including Nguyen The Thao of Hanoi and Luong Van Hai of Binh Thuan Province, said publicity, proper use, and supervision of the stimulus package are essential to ward off a recession.
Some deputies said the use of the money should be supervised to ensure it is spent properly.
Issuing an additional VND20 trillion (US$1.18 billion) worth of bonds and adding US$8 billion to the package are necessary, but how the money is used should be made known to the public, said Le Thanh Phong of Lam Dong Province.
"If it is used efficiently, the GDP growth rate this year can be higher than the revised rate of 5 percent," he said.
Deputy Do Manh Hung of Thai Nguyen Province proposed that the funds should be deployed in areas in which Vietnam lags behind other countries, such as traffic infrastructure and education.
If the economic stimulus measures are not carried out efficiently, inflation would return, Ha Son Nhin of Gia Lai Province warned. He urged the Government to tackle problems related to public investment to improve its efficiency and prevent a recession.
Construction works and capital disbursement for them should be speeded up, he added.
Budget deficit too high
A number of deputies warned that the proposed budget deficit of 8 percent this year is too high and poses a risk.
Deputy Pham Thi Loan of Hanoi said if the value of the bonds is included, the actual deficit would amount to over 10 percent. In the past, it was only 5 percent or less, she pointed out.
To reduce the budget deficit, the Government should cut down non-urgent spending, make the best use of budget revenues, and provide tax breaks judiciously, she added.
Deputy Vi Trong Le of Phu Tho Province said since more than VND60 trillion (more than US$3.5 billion) was unused last year and transferred to this year's account, it is not necessary to run up such a large deficit.
Most deputies agreed that the budget deficit should not exceed 7 percent.