Lawmakers discussed monitoring of food safety, a proposal to remove the central bank's prime rate, and creating jobs for disabled people at the ongoing National Assembly session November 10.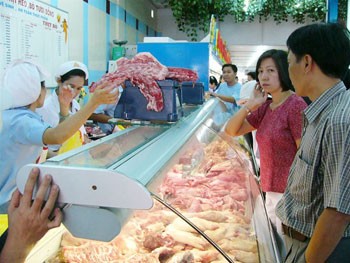 The Bill on Food Safety includes regulations on strengthening safety in food production and trade.

Debating the Bill on Food Safety, many deputies called for more measures to prevent food poisoning, which they said remained a major problem despite strenuous efforts by relevant agencies.

Around 8.2 million people suffer from food poisoning and food-borne diseases every year, according to the World Health Organization.

There are various causes for food poisoning, including microorganisms, chemicals, and natural toxins, Minister of Health Nguyen Quoc Trieu said.

Many deputies blamed it on the poor oversight exercised over food production, processing, and trade and the lack of coordination between concerned agencies.

Most deputies approved the bill, saying it provides a wider and more specific scope for control than the 2003 Ordinance on Food Safety and Hygiene.

The bill includes regulations on strengthening safety in food production and trade, preventing food poisoning and food-borne diseases, improving food testing, and stepping up education on food safety.

Many deputies hailed a chapter in the bill that specifies safety regulations for each kind of food, additive, supplement, and container and wrapping.

They also approved regulations for tightening control over street food, which they said is a special kind of food that needs to be managed by local authorities.

Most pointed out that food safety problems in recent times stemmed mainly from the fact that as many as three ministries – health, industry and trade, and agriculture and rural development – have authority over it but their respective duties and responsibilities have not been spelled out clearly.

They approved the fact that the bill makes the health minister the point man in the management of food safety and public health.

Many deputies suggested that the bill should include a clause that producers and traders of food vulnerable to contamination -- like meat, fresh vegetables and fruits, milk and seafood -- must be subject to licensing.

Discussing amendments to the Law on the State Bank of Vietnam, most deputies agreed that the central bank should be given more power to run the country's financial and monetary system.

They also agreed that the duties and responsibilities of the house, the Government, and the bank in making fiscal and monetary policy must be spelled out clearly.

The bill seeks to scrap the prime interest rate regime and replace it with the rates the State Bank of Vietnam applies to loans it gives to commercial banks.

But some deputies, including Nguyen Duc Kien of Soc Trang Province, disagreed with the removal of the prime rate, saying it could induce banks to lend at exorbitant rates.

Pointing out that some units of the State treasury deposited money in commercial banks for interest, increasing the supply of money, some deputies called for prohibiting that and allowing them to open accounts only at banks designated by the State Bank of Vietnam.

The Bill on Disabled People seeks to scrap an existing regulation that businesses should employ disabled people at a rate of 2 percent of their total work force.
Instead, it seeks to give incentives to businesses employing people with disabilities.
But the NA Committee for Social Affairs disagreed with this, saying such amendments should be considered carefully to protect the interests of disabled people.
The committee wanted the bill to include regulations that help generate more jobs for disabled people.