Pollution, rice export, and prices of goods were among the major issues deputies discussed at the first question session of the National Assembly yesterday.

Most queries were directed at Natural Resources and Environment Minister Pham Khoi Nguyen, Agriculture and Rural Development Minister Cao Duc Phat, and Finance Minister Vu Van Ninh.
Deputies voiced concern about the serious pollution Vedan Vietnam caused recently and sought unambiguous answers.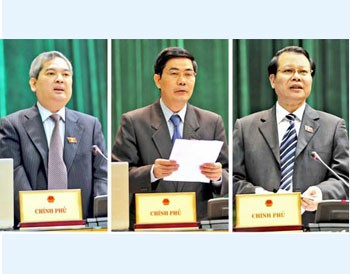 From L: Natural Resources and Environment Minister Pham Khoi Nguyen, Agriculture and Rural Development Minister Cao Duc Phat, and Finance Minister Vu Van Ninh. (Photo: SGGP)
Mr. Nguyen said Vedan has admitted to its violation and promised to install a wastewater treatment system within eight months. It would also pay an environmental fee of VND127 billion (US$7.5 million) next year, he said.
Vedan has dismantled three out of five pipes it was using to discharge untreated waste into a nearby river. The remaining two have been blocked, the minister said.
Asked why Vedan has not been shut down until its treatment system is installed, Mr. Nguyen said, "Vedan has shut down three of its factories and a complete shutdown is the responsibility of local authorities, not the ministry."

Le Thi Nga, deputy chairwoman of NA Justice Committee, asked, "Is there any buck-passing between agencies in dealing with Vedan's violations and have any officials been [indicted] for wrongdoing?"

Mr. Nguyen replied: "Vedan's violations were complex and intentional. The government has ordered a review of the responsibilities of the agencies concerned."
Asked about measures to address environmental problems, Nguyen said they have been "bequeathed by history." Eighty percent of businesses use technologies developed in the 1980s, he explained, adding out of 2,000 trade villages in the country, 1,400 cause pollution.

By 2015 his ministry would resolve the problems posed by 439 seriously polluting plants, most of them located in industrial parks.
Mr. Phat faced questions related to high prices of raw materials, low prices farmers get for their produce and the difficulty they have in selling them, export of rice, and import of salt.
Deputy Nguyen Hong Dien of Hau Giang Province asked why export of rice was halted in April when global prices were rising.
"Did the ministry make a calculation of the loss to farmers as a result?" she asked further.
Mr. Phat said the stoppage is temporary. Grilled about the ministry getting its rice policy wrong, he said: "It is my responsibility. I am accountable to the government and National Assembly for it and am ready to face disciplinary action."
Asked about compensation paid to farmers for losses caused by the wrong policy, he said: "We will continue to consider this issue. It is a major one, encompassing several policies affecting farmers and the relationship between producers and consumers."
Regarding price issues, deputy Nguyen Thi Bach Mai, from Tay Ninh Province, asked, "What has the government done to control prices?"
Minister Ninh said the Government has taken many measures to keep down prices of key commodities like electricity, water, petrol and oil.
His ministry and the Ministry of Industry and Trade plan to jointly set up a transparent pricing mechanism, he said. For instance, when global oil prices increase, the import duty on oil would be fixed at a rate that protects the interests of both businesses and consumers, he added.