The Asia-Pacific Parliamentary Forum (APPF) has opened in the Lao capital Vientiane, giving legislators a chance to compare notes on the achievements and challenges in developing the region into an economic hub, according to the Vietnam National Assembly Chairman Nguyen Phu Trong.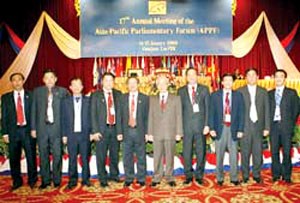 National Assembly Chairman Nguyen Phu Trong (5th R) with other delegates at the first plenary session of the 17th Asia-Pacific Parliamentary Forum that opened in Vientiane, Laos, January 12. (Photo: VNA)
At the first plenary session of the four-day 17th annual conference that began on January 12, delegation leaders discussed political security issues, especially problems related to peace and stability in Southeast and Northeast Asia and the Middle East.
Mr. Trong told the meeting that the region faces major security, economic, and trade challenges and member countries need to hold serious discussions to find solutions.
The APPF should enhance its working, consolidate its organization, and work closer with ASEAN, ARF, AIPA, APEC and other organizations to develop the Asia-Pacific into a dynamic community to achieve stable and prosperous development, he said.
Vietnam makes efforts to contribute to the development of countries in the region and elsewhere, he said, and seeks to coordinate with other nations' legislatures to promote peace, friendship, coordination, and sustainable development.
The main topics on the forum's agenda are strengthening of political security, promotion of economic and trade cooperation, and increasing parliamentary exchanges.
Speaking at the opening ceremony, Lao National Assembly Chairman Thongsing Thamavong voiced concern over the difficulties facing countries in the region -- like the financial, food, and energy crises and the threats posed by climate change and natural disasters.
He called on members to strengthen regional trade and economic cooperation to ensure lasting development across the region.
Later on the inaugural day delegation heads called on General Secretary and President Choummaly Sayasone at the presidential office.
Mr. Thammavong formally received the delegation heads arriving for the forum.
Mr. Trong and his delegation met Vietnamese living in Lao.

Attending the event are 240 delegates from 23 nations and Inter-Parliamentary Union General Secretary Anders B.Johnsson.
The APPF was founded by former Japanese Prime Minister Yasuhiro Nakasone in 1993.
A loosely-structured and non-exclusive forum of national parliamentarians who participate either as delegates of their parliaments or in their personal capacities, it groups the following nations and territories: Australia, Japan, Korea, Thailand, Philippines, Singapore, Brunei, Indonesia, New Zealand, Canada, the US, China, Hong Kong, Taiwan, Mexico, Papua New Guinea, Chile, Peru, Russia, Vietnam, Malaysia, and Laos.
Last year's conference was held in Auckland, New Zealand, in January