Discussing two proposed national key projects November 13, including two nuclear power plants in Ninh Thuan Province and a hydroelectric plant in Lai Chau Province, many National Assembly (NA) deputies voiced their concerns about safety for the projects.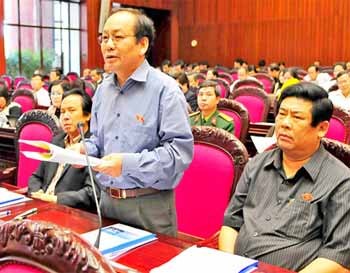 Deputy Nguyen Dang Vang speaks at the NA session in Hanoi on November 14, which discussed key national projects in Ninh Thuan and Lai Chau Provinces (Photo: SGGP)

Speaking at the ongoing NA session, deputies asked the Government to make it clear about the safety and efficiency of the nuclear project in Ninh Thuan, asking only one plant be built instead of the proposed two.

It is so hasty to build two plants at one time. We should build one first and then consider the second on the basis of the operation of the first, said deputies Nguyen Dinh Xuan, Nguyen Dang Vang, and Nguyen Lan Dung of Tay Ninh, Binh Dinh and Dak Lak provinces respectively.

Building nuclear power plants is a sound policy, as it will help ease the forecast lack of energy in the years to come, but nuclear safety must be put above all, they said.

Many deputies suggested the third generation technology be chosen for the future plant and if it is the case, the cost of construction will be US$16 billion, of which 75-85 percent will be covered by foreign loans.

Meanwhile, some did not agree to the policy, like Nguyen Minh Thuyet of Lang Son Province, who argued that Vietnam does not yet have enough capabilities, including management, materials and personnel, to build a nuclear power plant.

"How can we cope with a nuclear incident if it occurs?" he asked.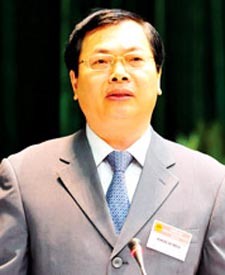 Industry and Trade Minister Vu Huy Hoang delivers a report to the NA about the Ninh Thuan nuclear power project (Photo: SGGP)
Industry and Trade Minister Vu Huy Hoang said all opinions will be taken into account before the project is developed. Whether which technology is selected, it will have to meet such criteria as modernity, efficiency and safety, he said.
In 2015-16, our country will have to seek replacement energy sources even when it uses energy thriftily, at a rate of 20 percent for example, he said.

In 2030, the country will have just 1,000 MW of solar and wind energy, and a serious lack of electricity is likely to occur; therefore, the Government has proposed two nuclear power plants, capable of generating 4,000 MW, be built to ease the situation, he explained.

Materials for these plants will be imported and after 2030 the country would be self-sufficient, he added.

Many deputies voiced the same concern about the safety for the Lai Chau hydroelectric project, arguing that the future plant is located in an area with complicated geology and vulnerable to earthquakes.

Ngo Minh Hong, of Ho Chi Minh City, warned that any changes made to the environment must be considered carefully to avoid consequences.

Plans for emergency situations must be prepared, Nguyen Dinh Xuan said.
Deputies also put emphasis on relocation of people affected by the projects in Ninh Thuan and Lai Chau. From practical experience gained from the building of other hydroelectric plants, the relocation must be carried out better to ensure people's living conditions, especially for ethnic minorities, they said.