If the Government wants to use taxpayers' money to pay for its extended loan-subsidy program, it must consult the National Assembly, the house's deputy chairman, Nguyen Duc Kien, said.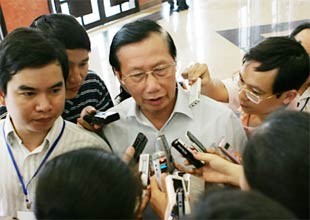 NA deputy chairman Nguyen Duc Kien speaks to the media about the Government's plan to extend the subsidized loan program November 4. The house must be consulted before the money is spent, he said (Photo: Dan Tri)
Speaking to the media on the sidelines of the ongoing NA session November 4, Mr. Kien said the NA has authority over all spending from the State budget.
On November 6, he said, the house would pass a resolution on the 2010 socioeconomic plan which would deal with issues related to the package.
"I do not know yet how the package will be funded," he added.
Asked about the fact that the Government wants to maintain the interest subsidy policy while the NA's Economic Committee and Financial and Budgetary Committee wants it discontinued, Mr. Kien said: "It is necessary to have a stimulus package to serve the needs of medium- and long-term economic development."