The Government should step up its allocation of Government bond-sourced capital to key public projects and stop wasting money on ineffective ones, the National Assembly (NA)'s Standing Committee said at the closing meeting of its 26th session in Hanoi on December 19.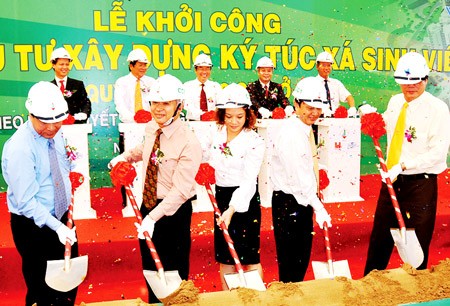 The ground breaking ceremony of the country's biggest dormitory at Thu Duc University Village in Ho Chi Minh City, on Oct. 16, 2009. The NA's Standing Committee asked the Government to accelerate the process of budget capital disbursement to feasible projects and stop wasting funds on inefficient ones. (Photo: SGGP)

The Committee heard the Government's performance report concerning the capital sourced from Government bonds in 2009 and its plan for 2010.

It also heard an assessment by the NA's Financial and Budgetary Committee about the Government's use of capital.

Total funds from Government bonds in 2009 amounted to VND64 trillion (US$3.46 billion), including VND8 trillion brought forward from 2008, but the allocation of the capital to public projects was inadequate, the Committee said.

Many projects have been underfunded this year, suffering an estimated shortage of VND10 trillion. The difference will have to be provided by investment funding in 2010.

And this amount may in fact be much larger, said Phung Quoc Hien, chairman of the Committee. Hien complained that capital allocation and transfer by ministries and local authorities has been carried out tardily and inefficiently.

The Government's report is not convincing, said Nguyen Van Thuan, chairman of the NA's Law Committee.

He pointed out that the allocation until October was just VND26 trillion, so it is unrealistic for the Government to say that total capital allocation this year will reach VND46 trillion.

He warned that slow and inefficient use of budget capital would push the Incremental Capital Output Ratio (ICOR) and that transfer of capital allocation from one year to the next will result in inaccuracy in GDP calculations.

Pham Minh Tuyen, head of the NA deputies' ad hoc board, asked the Government to report more clearly on the use of capital sourced from Government bonds so that the NA Standing Committee can assess the efficiency of its use.

He also asked the Government to consider holding local leaders responsible in provinces and cities where public projects had been developed tardily and ineffectively.

Finance Minister Vu Van Ninh said total capital disbursement this year may account for 82 percent of the plan and that the Government was anxious about the slow pace of disbursement.

The Financial and Budgetary Committee asked that capital be provided promptly to key projects in 2010, with priority given to projects in education, health and agriculture, and especially those in the country's 62 poorest districts.

Capital allocation must be suspended for projects that have been developed sluggishly or ineffectively over a long period, the Committee said.