Lawmakers called for stepping up the fight against crime, including corruption, during a review November 4 at the ongoing National Assembly session.
During discussions on reports from the Ministry of Justice, the Supreme People's Court, and the Supreme Procuracy, Nguyen Minh Thuyet of Lang Son Province complained about the tardiness in trying some important cases.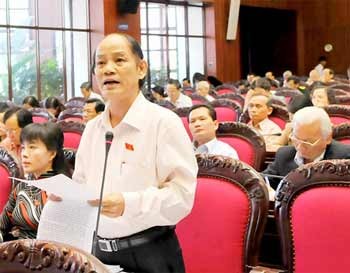 Deputy Huynh Nghia of Da Nang City speaks at a National Assembly session on November 4 which focused on the fight against crime, including corruption (Photo: SGGP) 
He cited the East-West Highway case in Ho Chi Minh City in which Japan's Pacific Consultants International allegedly paid bribes to a Vietnamese official, pointing out that just the translation of documents related to it took a year – at a rate of 11 pages a day – despite being told to speed up by the NA as well as the Prime Minister.
"According to a Government report, corruption is the third leading crime behind infringement of national security and infringement of social order and security.
"But I think corruption is no less dangerous than the other two.
"If we fail to check corruption or are not determined to fight it, people's trust in the Government will be undermined and external forces hostile to Vietnam will have a chance to connive with internal forces to act against our State."
In most graft cases, defendants get commuted sentences owing to their good record, Nguyen Thi Lan of Lao Cai Province said.
"This is unreasonable since most are public officials would not have been appointed if they did not have a good record," she pointed out.
Many other deputies also complained that the rash of suspended sentences is likely to hurt the efficiency of anti-corruption efforts and cause discontent among people.
They called for specifying the crimes for which sentences can be suspended. "So many suspensions will not help prevent crimes, especially corruption," Tran Van Kiet of Vinh Long Province said.
Many deputies voiced concern about the increase in crimes, many of them committed by foreigners.
"Recently, so many foreigners, mainly from Africa, have committed crimes like theft and fraud and even made Vietnam a transit point for drug trafficking," they said.
Pham Quoc Anh of Dong Nai Province blamed the problem on lax management of immigration.
Mr. Kiet said there are two reasons for the spurt in crime: the punishments are not harsh enough and there are often persons ready to help offenders cover up.
In a report on the execution of verdicts, Minister of Justice Ha Hung Cuong said the post of "executor" would be created in Ho Chi Minh City on a trial basis.
The ministry would coordinate with city authorities to appoint several such officials this quarter, he said.