The passage of some new laws, amendments to existing ones, and the progress made in several key national projects will be on the agenda at the National Assembly session which enters its third week November 2.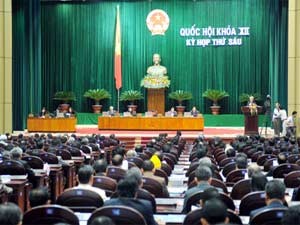 The National Assembly session which began its third week on November 2 (Photo: SGGP)
Deputies will discuss proposed laws like the Bill on Bringing up Adopted Children and Bill on Natural Resource Tax.
They will also discuss changes to the Law on the State Bank of Vietnam, VAT Law, Corporate Income Law, and Law on Credit Institutions among others.
The proposed amendments include giving more authority to the State Bank of Vietnam in making financial and monetary policies, and spelling out the duties and responsibilities of the Government, the NA, and the central bank in running the financial and monetary systems.
Members will also discuss issues related to the Son La Hydroelectric Plant, Lai Chau Hydroelectric Plant, Dung Quat Oil Refinery, Ninh Thuan Nuclear Power Plant, Ho Chi Minh Road, and the planting of five million hectares of forest.