The National Assembly is expected to pass six bills, three amended laws, and three resolutions during the last week of its session starting November 23.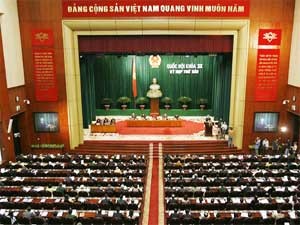 At the NA session which concludes November 27, members are expected to pass several bills and three resolutions. (Photo: VOV)
Legislators will debate the Laws on Elderly People, Medical Examination and Treatment, Telecommunications, Radio Frequency, Militia and Self-Defense Force, and Natural Resources Tax before passing them.
The laws to be amended are those on education, vat, and corporate income tax.
Members will consider resolutions on the Lai Chau hydropower project, Ninh Thuan nuclear power project, and the legislature's supervision program in 2010.
On November 23 the house will discuss in groups the Bill on Food Safety, which has a wider scope compared to the Ordinance on Food Hygiene and Safety.
It contains provisions on food safety, advertising, and labeling, quality of imported foods and foods for export, food testing and control, and reducing hazards related to food safety.
Lawmakers will also discuss Bills on Efficient Use of Energy, Execution of Civil Verdicts, Disabled People, and Trade Arbitration.
The six-week NA session will close on November 27.