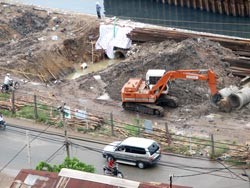 At a clearance area in Ho Chi Minh City (Photo: Tuong Chau)
Delegates at a seminar on urban relocation efforts on Thursday said that the current decree on compensation, subsidization and relocation of residents whose land is retrieved by the State is still unclear and insufficient.
The seminar, titled "Finance for Resettlement: Reality and Solutions," was held in Ha Noi by the Institute for Finance Science under the Ministry of Finance and discussed decree 197/2004/ND-CP on compensation for relocation at length.
Delegates complained that the decree solely focuses on compensating for the loss of assets while the loss of income and economic advantages suffered by losing valuable or strategic property are not compensated for.
They also argued that the decree's regulations on providing free vocational course and career support for households in clearance areas are unclear, and relocation policy in each province is too variable and unfair.