The Government's housing credit package worth VND30 trillion (US$1.35 million) has been out of reach of many low income citizens who can not prove that their payment ability. From June, it will be more difficult for them as the package's preferential interest rate of 6 percent will be no longer valid to commercial housing projects while the supply of social projects has been limited.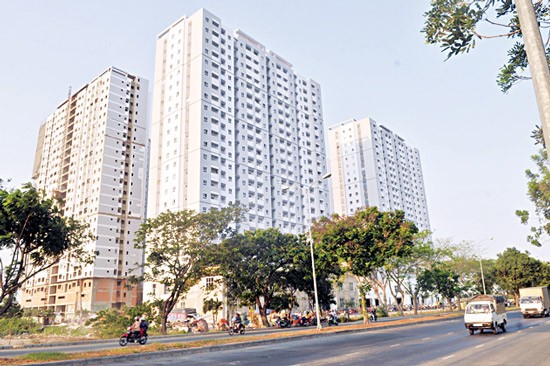 A corner of HCQ Plaza in Binh Chanh district, HCMC (Photo: SGGP)
Loans disbursed after June 1 will no longer enjoy the low interest rate, concerning many customers who have been affordable for apartment priced less than VND1.05 billion (US$67,000).
However a representative from the State Bank of Vietnam (SBV)'s Credit Department of Economic Sectors yesterday said that the State Bank had popularized regulations of the package to residents and businesses right from the start, including the time limit for the preferential interest rate.
Estimating the housing package, deputy director of SBV in HCMC Nguyen Hoang Minh said that commercial banks had pledged to loan VND6.3 trillion (US$283 million) at 6 percent interest rate at the end of last year. They have disbursed 60 percent of the funds equivalent to VND3.5 trillion.
The disbursement rate is expected to reach 80 percent by June 1 this year, so customers will pay normal commercial interest rate for the rest 20 percent of the loans, he added.
The low interest rate will still be valid to social house buyers after the deadline when the package's disbursement will end. Social housing loaning will be conducted by Vietnam Bank for Social Policies and four commercial banks namely Vietcombank, Agribank, BIDV and Vietinbank.
Decree 100/2015 of the Government detailing the Housing Law 2014 clearly rules standards on social houses.
At present social housing supply meets only 30 percent demand of public servants and other beneficiaries.
Ho Chi Minh City has six state owned social housing projects in Districts 6, 8, 10, 12, Go Vap and Tan Binh with nearly 650 apartments. These projects will be for lease or lease purchase not for sales.
Last year the city's Department of Construction received nearly 1,000 applicants for apartments from these projects but only 57 percent of them have been handled. The remaining customers will have to wait until there will be more housing projects. No social housing project belonging to state ownership will be built in 2016.
Besides the city have 22 non state social housing projects supplying 29,000 apartments. However most of them have still waited for approval for or just started site clearance phase.
They are expected to break ground in the next couple of years if everything goes on schedule.