Prime Minister Nguyen Tan Dung has asked relevant ministries to implement the second phase of the Resolution 167, for building a minimum of 500,000 houses in 62 of the poorer districts in the country.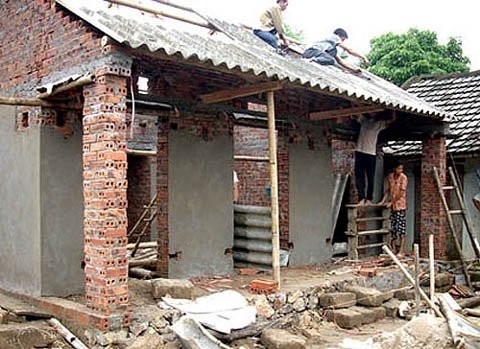 Workers building a house for low income group of people
At a national conference to review the Housing Assistance Program for the poor in the northern province of Bac Ninh on July 19, Prime Minister Dung asked relevant ministries and related departments to construct an additional 500,000 residential houses for 2.5 million people in the lower income bracket.
In addition, the PM also ordered the Ministry of Construction to reduce the prices of houses to help average and low income group of people to be able to buy a shelter.
According to the ministry, the Resolution 167 is the most effective Housing Assistance Program since the country started its renewal process more than 20 years ago.
The program has helped more than 507,143 households in 62 of the poorest districts in three years from 2008-2011 in the first phase of the program.
After three years, nine provinces reached their target two years ahead of schedule. A large numbers of beneficiaries of the housing program are living in the central province of Thanh Hoa and the southern provinces of Tra Vinh and Soc Trang.
The program has so far mobilized more than VND12.6 trillion ($605 million) from central and local budgets and the social policy bank. A total of VND11.9 trillion ($572 million) has already been disbursed and the remaining capital will be used later this year.
Within the last 10 years, the average area per person has doubled from 9.68 square meters in 2001 to 20 square meters in 2010 and 85 percent of people now live in concrete houses.
The ministry of construction has proposed to the government to issue a scheme to assist these households. As per the ministry's proposal, the state budget can provide one-third support of around VND12 million, beneficiaries can access preferential loan at low interest rate of another one-third amount of maximum VND13 million, and the community can assist with the remaining one-third of VND12 million.