Hue City in central Vietnam yesterday inaugurated the new Bach Ho Bridge over the Huong or Perfume River, on the occasion of the 67th anniversary of National Day on September 2.
The Bach Ho Bridge is 542.5 meters long and 24.5 meters wide with four traffic lanes and sidewalks on either side.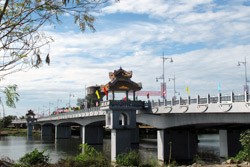 The newly opened bridge will reduce the traffic load over the Perfume River in Hue City (Photo SGGP)
The five-span bridge also has six viewing-towers for people to relax and enjoy the river view.
Construction of the bridge began in December 2009 and cost VND730 billion (nearly US$35 million).
The bridge starts at the traffic junction between Highway 1A on Le Duan Street and Kim Long Road in Phu Thuan Ward.
The bridge ends at Bui Thi Xuan Street in Duc Ward in Hue City and has five spans of lengths of 542.5 meters. It also has a gazebo along the Perfume River to admire the art lighting system on the bridge.
This is the third road bridge across the Perfume River in Hue City after the Trang Tien Bridge and Phu Xuan Bridge, contributing to ease in traffic flow and creating focal points for tourism in Hue City.
Nguyen Van Cao, chairman of the People's Committee of Thua Thien-Hue Province, said the bridge will significantly contribute to the socio-economic development in the province, especially tourism, and also ease traffic on the Phu Xuan Bridge, which is deteriorating after decades of operation.