Hue University of Pedagogy yesterday morning held a ceremony to receive the Third class Labor Medal and mark the 60th anniversary of its establishment.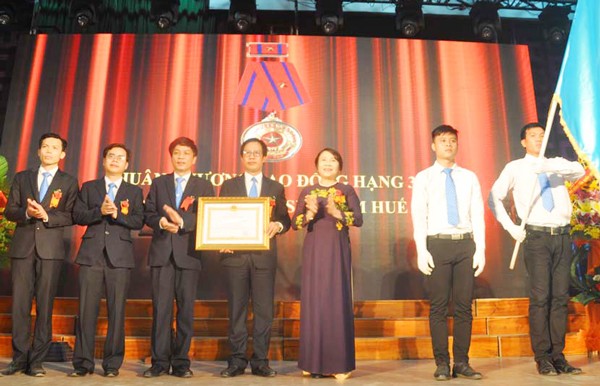 Hue Pedagogical University receives the Third class Labor Medal
The university has total 12 faculties, seven functional rooms, five centers and an institute for research activities with 45 professors, 84 PhDs and Thuan Hoa High school.
Currently, the university opens many educational cooperation and training programs with foreign countries.
It had ever received the Third class Labor Medal (1983), the Second class Labor (1991) and the First Labor Medal (1996).
On the same day, Hue Pedagogical University opened a show room displaying 30 national flags, which were presented by heads of Spratly Islands. Earlier, the University offered nearly 1,000 national flags for the Ly Son island district and Paracel Islands of Khanh Hoa province.