A travelling exhibition on wildlife trade for children from secondary schools in Hue province aimed at educating secondary students here on wildlife trade and what people can do to stop illegal wildlife trade is currently running in Hue City in the central province of Thua Thien Hue until April 17.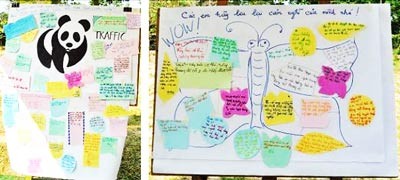 Posters are hung around a hut in participating schools in Hue (Photo: Courtesy of WWF)
Participating schools have hung posters around a campaign about the plight of local, endangered wildlife, which are often hunted and sold illegally.
Hundreds of students have also watched films about the illegal hunting, slaughtering and sale of wild animals, whose meat is then served in Hue restaurants.
After watching the films, students take part in question-answer sessions with experts.
One of the questions posed to students in the exercise regards how many rhinoceroses the children believe are currently living in Vietnam. The possible answers range from just a few to over 100. Most students are astonished to learn that less than five of the highly endangered animals are left in the country. 
Dang Van Thanh, one of the organizers of the event, said the exhibition aims to give students a closer look at the illegal hunting of wildlife around Hue and to cultivate within them a respect for and desire to help animals.
Students said they would tell their parents and neighbors about the exhibition and advise adults not to buy or sell wildlife products.
The exhibition, which began March 3, is hosted by the province's Department of Education and Training; the Department of Forestry Protection; the World Wildlife Fund; and TRAFFIC, a wildlife trade monitoring network that works to ensure that trade in wild plants and animals is not a threat to the conservation of nature.
The campaign kicked off first at Nguyen Thi Minh Khai junior high school and will wrap up at Ly Tu Trong school.