Many people are benefiting from building fake tombs or not placing bodies in tombs in An Tay Ward, Hue City. They find suitable land and reserve it with fake tombs in the hope to make easy money.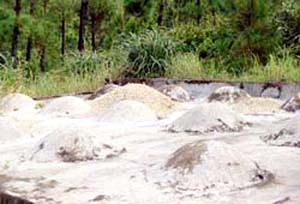 It is difficult to know which tombs in An Tay are fake (Photo: SGGP)
An Tay has the largest number of tombs and cemeteries in the city. They are in close proximity to slopes and in pine forests at Ngu Binh and Thien Thai mountains.
From the beginning of 2008, the municipal government has been reclaiming land for development. This has resulted in many people building fake tombs to claim any remaining land.
The process of building fake tombs has been going on for some years, but the areas population was sparse at the time. People reclaimed wasteland to make gardens and even built fake tombs to create reservations.
They built these tombs to make easy money, as the tomb owners would have to be compensated if land was cleared for development.
If a person finds suitable land, he immediately piles up tombs, and will not worry about other's taking over the land.
Many households are said to make a career out of fake tomb profiteering.
Some households even hire laborers to find land in the local mountains and hills to build tombs.
Buying their tombs is quick and cheap. The price of a tomb costs from VND2 to 4 million, but they can reap large profits.
Building fake tombs in forests under management by government authorities and is against the law. However, some people have been committing fraud by building tombs on such and selling it.