A huge fire broke out at a gas station belonging to the Military Gas and Oil Company No. 9 located on 28 Tran Hung Dao Street in Hanoi, opposite the Central Military Hospital, on June 3.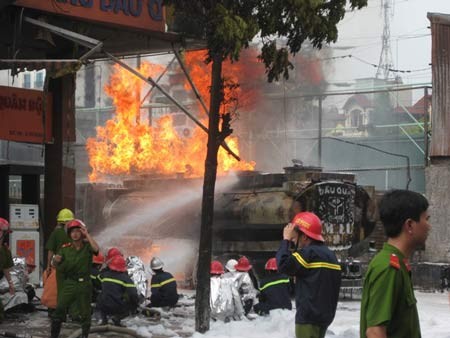 Firefighters trying to douse the huge flames (Photo: SGGP)
The fire was so huge that hundreds of fire trucks and more than 1,000 firefighters, police and soldiers had to be deployed to bring the flames under control. 
Police were quick to barricade the 500m road in front of the hospital, cut off electricity and also evacuated neighboring areas.
Major General Do Van Son, chief of the Department for Firefighting and Rescue under the Ministry of Public Security and other officials visited the scene to direct firefighters on site.
After six excruciating hours, firefighters brought the fire under control. Nevertheless, police continued to block the roads leading to the scene and firefighters still jetted water to cool down the burning debris.
Six firefighters and many residents and staff of the gasoline station suffered from burn injuries while battling the fire and were taken to hospital for treatment.
According to initial estimates, damages could run into billions of dong.