Heavy rainfall following Tropical Storm 'Rumbia' has triggered flooding and landslides in the northern mountainous region with reports of human casualties, according to the Central Steering Committee for Flood and Storm Prevention and the National Committee for Search and Rescue.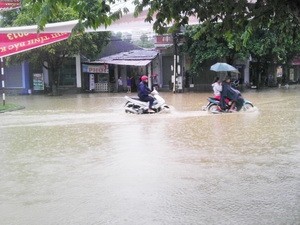 Heavy rain caused flooding along several streets in Bac Kan Province (Photo: VNA)
Rainfall measured 400mm over the last few days in Ha Giang Province. Flash floods and landslides stopped traffic and submerged some parts of Vi Xuyen, Hoang Su Phi and Bac Me Districts and Ha Giang City.
A 33m concrete bridge collapsed in Hoang Su Phi to isolate thousands of households in Ba May Commune.
Initial damages estimated in Ha Giang Province alone are around VND7 billion (US$330,000).
Flash floods swept away one person and collapsed 44 houses in Tuan Giao District in Dien Bien Province. Parts of Muong Ang and Tua Chua District and Muong Lay Town were also inundated under gushing floodwaters.
Heavy rain also caused flooding in Thai Nguyen City. One woman died after falling into an open sewer.

Related article:
Storm Rumbia moving towards China