At a seminar on mangrove forest protection and development hosted recently in Can Tho City, the Vietnam Administration of Forestry said that gradually human settlements in the Mekong Delta are encroaching into the mangrove forests and thus greatly reducing a valuable source of income for many local residents.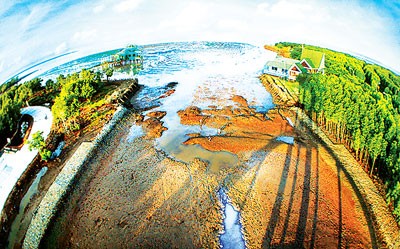 Once mangrove forests are destroyed, Ca Mau Province in the southern tip of Vietnam will be seriously threatened (Photo: SGGP)
The Mekong Delta has almost 100,000 hectares of mangrove forest spread over coastal alluvial plains, in estuaries and lagoons in provinces like Ca Mau, Bac Lieu, Soc Trang, Tra Vinh, Ben Tre, Kien Giang and Long An.
Mangrove forests are a poor man's livelihood. The trees provide wood to build huts, for firewood and for sale to buy rice.
People have over time dug up the roots of the black mangrove trees to collect peanut worms in Ben Tre, Bac Lieu and Ca Mau Provinces. Tens of trees are dug every day for just one kilogram of worms, which fetches a mere VND15,000.
Forest management divisions in provinces in the delta said that thousands of households are living in coastal protective forest areas. Most of them are poor and own no farmland and the forest is their only source of livelihood.
Now more people are clearing mangrove forest areas to make way for shrimp breeding farms.
According to the forestry administration, a total of 11,700 hectares of mangrove forest has been chopped down from 2000 until 2010. More deforestation is occurring in Ben Tre and Bac Lieu Provinces.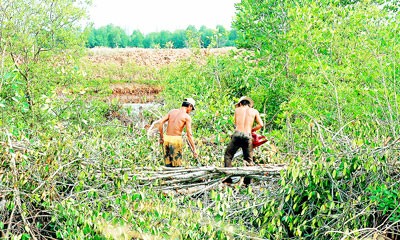 Mangrove forests are gradually being cleared in Bac Lieu Province (Photo: SGGP)
This has not only affected the delta biodiversity and ecosystem but also worsened landslides along several coastal and riverside areas. Severe landslides have occurred over a length of 310km, mostly in Ca Mau, Kien Giang, Tien Giang and Ben Tre Provinces.
Local authorities have planted more forests but most of the newly grown areas have still to take root in Ca Mau and Soc Trang Provinces.
Nguyen Quang Duong, head of the forest development division under the Forestry Administration, said that 479km of sea dykes are without any protective forest cover.