Four people were sentenced to a total of 25 years in prison in the southern province of Tay Ninh on Wednesday for selling nearly 90 women to Singaporean and Malaysian bidders.
According to the indictment, Nguyen Thi Ngoc Yen, 53, was the trafficking ring's mastermind.
Prosecutors said Yen hired 60- year-old Nguyen Thi Khuan to entice young women in Tay Ninh and other Mekong Delta provinces into leaving for foreign countries with the promise of jobs or marriages to wealthy men.
Yen would put the women up and teach them Malaysian before selling them to a Malaysian named Lee, who was introduced to Yen by her adopted daughter's husband, another Malaysian, in 2007. The women were then bought by Malaysian and Singaporean men as wives.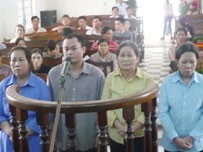 Nguyen Thi Ngoc Yen (1st, L) and her accomplices in the dock on Wednesday.
Police investigations showed that Yen earned US$1,000 and paid Khuan VND2 million ($108) for each woman sold to Lee. She also paid Pham Thi Phi, 50, who helped her keep records of the women, VND500,000-1 million ($27-54) a month.
The ring was busted in November 2008 when Tay Ninh Police and the Criminal Investigation Bureau at the Ministry of Public Security caught Yen's accomplices carrying out procedures for three women set to leave for Malaysia at Ho Chi Minh City's Tan Son Nhat Airport.
According to police, Yen had earned VND76.5 million ($4,140) from selling 80 out of 400 women introduced by her accomplices since mid 2007.
Further investigations then found that Khuan also worked for another ring led by 31-year-old Nguyen The
Phong, who had sold six women to another Vietnamese also named Phong in Malaysia and his brother-in-law in Singapore since 2007. The Phong earned VND6 million ($324) for each woman sold to his partners.
Yen got 12 years' imprisonment and The Phong was given seven while Khuan and Phi were sent to prison for four and two years respectively. They were all found guilty of human trafficking.
In a separate case, seven women, who were sold into prostitution in Thailand by Vietnamese citizen Vo Thi Hong, who was arrested in July 2009, returned to Vietnam last Friday.
The women, who were sent to Thailand eight months ago, were rescued by Vietnamese Embassy workers in Thailand in cooperation with other organizations and Thai investigators.