321 boats with 3,049 fishermen on board have been unable to take refuge from the rough weather, reported the Flood and Storm Prevention Steering Committee for the central and central highland provinces on Tuesday.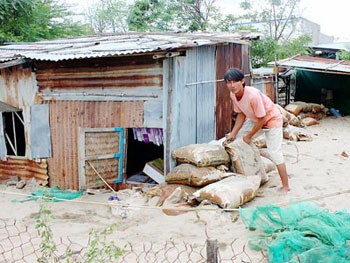 A resident struggles to make his home secure and safe from huge incoming waves (Photo: SGGP)
According to the committee, over 8,400 boats from Quang Ngai and Binh Dinh Provinces with over 48,000 people on board were still out at sea.
Of these, 321 fishing boats around the Truong Sa (Spratly) Islands and Hoang Sa (Paracel) Islands could not move towards any shelter as the tropical depression had worsened weather conditions on the East Sea.
  
On the same day, the border army in Phu Yen Province said that nines boats had sunk over the last two days with one still missing, causing a loss of about VND250 million (US$12,000).
Phu Yen now has 51 boats taking refuge in Congdo Island of the Philippines, three boats in Brunei, four in Malaysia and 231 in islets of the Truong Sa Islands.
The number of boats taking shelter in other countries from Binh Dinh Province was as yet unknown as of Tuesday.
High tide caused by the tropical depression has triggered landslides along tens of kilometers of the sea embankment area in Huong Tra, Phu Vang and Phu Loc Districts of Thua Thien-Hue Province.
Hai Duong Commune in Huong Tra District suffered the worst   landslide, about 300m in breadth. Many sections of the road connecting villages have been devastated, fierce waves also uprooted poplar trees threatening hundreds of households. Local authorities and residents are now fortifying the breached sea embankment.
For the last three days, the tropical depression has wrecked Ninh Thuan Province with strong gusts, high tide and huge waves, shattering several homes and destroying 260 meters of sea dyke in Phan Rang-Thap Cham town and 50 meters in Thanh Hai Commune of Ninh Hai District.
A section of the dyke was washed out to sea in Phuoc Dinh Commune of Thuan Nam District. Strong winds flattened a house and ripped off roofs of eight others in Thuan Bac District.
The Steering Committee for Flood and Storm Prevention in Thuan Bac District and local residents have reinforced the sea dyke with over 4,400 sand bags. 38 houses in Dong Hai Ward have been evacuated to safer areas.