Five units and 128 elderly people have been honored for their outstanding business achievements at the second National Conference of the Elderly Doing Business Well held in Ha Noi on Thursday.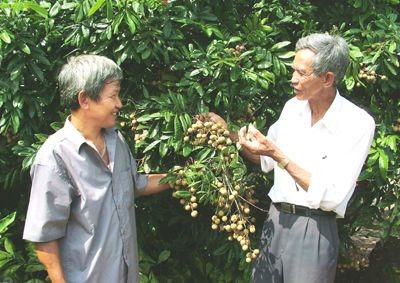 Two members of an association of the elderly in Ha Noi exchange experience in caring fruit trees (Photo: Ha Noi Moi Newspaper)
They are vivid examples of a movement entitled, "Overcoming poverty to get rich legitimately," which was initiated by the Viet Nam Association of the Elderly.
One of the most distinguished was Mr. Dinh Quang Bao, 71, residing in Hoan Kiem District, Ha Noi. He is director of Ladoda Company which manufactures high-quality leather products. His company has generated secure jobs for about 400 workers.
Another example is Mrs. Le Thi Nguyet, 75, of Quang Phu commune, Luong Tai district, Bac Ninh province. She has long committed herself to traditional bronze casting, earning more than VND120 million (US$7,200) a year. Her business is employing 50 workers.
Also honored at the event was Mr. La Khue Thoi, 64, who specializes in mechanics. Every year he earns about VND200 million and often offers technical training to 30-40 workers.
Apart from their business operations, the elderly across the country actively take part in charitable and humanitarian activities to help the poor overcome difficulties in life, the conference was told.
Speaking at the event, Mr. Huynh Dam, chairman of the Central Committee of the Vietnam Fatherland Front Committee, said, "Reality has proven that the elderly play an indispensable role in our society. They are bright examples for everybody, particularly young people, to study and follow."