Monk Lam Tu Linh from the Mahatup Pagoda in the Mekong Delta city of Soc Trang has informed that since August of last year hundreds of megabats or large flying foxes have made a precinct of the pagoda their habitat.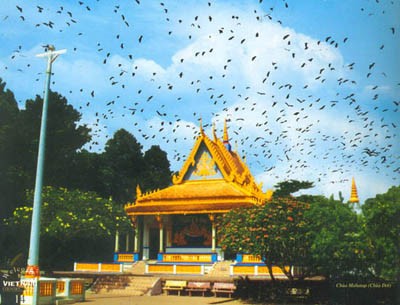 The Mahatup Pagoda in Soc Trang Province (Photo Internet )
They have adapted well to their new habitat and are in harmony with other bats already living there.
Six months ago, the numbers of bats in the pagoda were around 500 but now these have doubled.
According to scientists, the colony of bats at the Mahatup Pagoda belong to the large flying fox species known as Pteropus Vampyrus and Lyle's flying fox species known as Pteropus Lylei.
A large flying fox weighs from 0.6-1.1kg and a Lyle's flying fox weighs about 0.5kg.
In 2009, these two species were listed in Appendix II of the Convention on International Trade in Endangered Species of Wild Fauna and Flora (CITES), which bans trade of wild animals and plants in danger of extinction.
Monk Lam Tu Linh said that before 2000, the bat colony at the Pagoda was about 10,000 but they were hunted down and their numbers quickly shrank.
Monk Linh said that this is good news--seeing hundreds of bats colonizing the Mahatup Pagoda. However authorized organs and residents of Soc Trang Province should join hands to protect them, he added.
The Mahatup Pagoda is also called the Doi Pagoda or Bat Pagoda, which is a national relic site and tourist attraction in Soc Trang Province.