According to a report received on February 18 from the National Traffic Safety Committee, during the nine days of Tet Lunar New Year holidays from February 9 to 17, there were 373 traffic accidents in which 314 died and 387 were injured.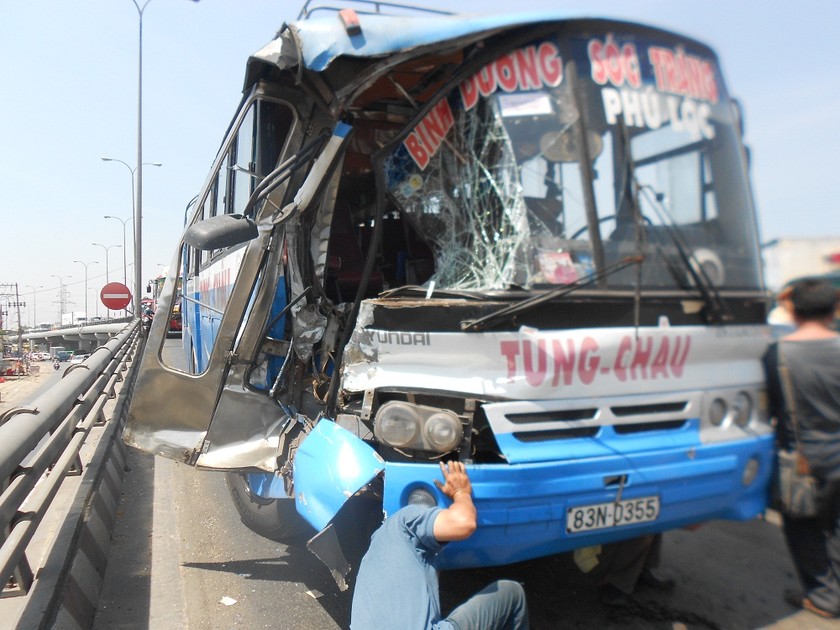 The scene of the traffic accident (Photo: Tinmoi.com)
Compared to last year, the number of deaths increased by five and the number of injured people increased by 29.
According to the National Traffic Safety Committee, the cause of serious traffic accidents was due to speeding, reckless overtaking, and drunken driving, mainly on motorcycles.
The most critical accident was in the central highland province of Lam Dong on Saturday in which seven people were killed, and one seriously injured including two children. The accident occurred when a truck transporting vegetables from Dong Nai Province crashed into three motorbikes at the Bao Lao mountain pass in Da Huoai District on February 16.
The motorbike riders were thrown under the truck and dragged a distance. Five were killed immediately, while two others died on way to the hospital. One still remains in critical condition. After running over the bikes, the truck plunged off the road, but the driver managed to jump out in time.
According to police investigation, the accident occurred because of carelessness of the truck driver, as he swerved onto the left lane to avoid a car ahead of him and hit the motorbikes, which were traveling in the right direction.
On February 17, Pham S, Vice Chairman of the People's Committee of Lam Dong Province visited the families of the deceased.
Lam Dong Province authorities decided to support each of the dead victims' families with VND2 million each and the injured with VND1 million each. Authorities in Da Huoai District also offered VND5 million to each victim.
Driver Tran Van Vinh, 28, was detained and charged for causing the accident, said Nguyen Quy My, chairman of the People's Committee of Da Huoai District on Sunday.