They gathered to review unforgettable memories in the fighting to protect Po Hen Border Post, forest trips and activities with comrades at the post before Chinese troops invaded.
Standing in front of Po Hen Border Post, Lieutenant Colonel Do Quang Minh who is head of the post's Contact Board told that all of his comrades in the fight were brave. They laid down for the country and live forever.
Vu Trong Hung, son of martyr Vu Trong Hien, and his mother followed the veteran delegation in order to commemorate the beloved father who Hung has no change to meet. His mother Nguyen Thi The used to be a volunteer at Po Hen Border Post.
Earlier, the Headquarters of Quang Ninh Provincial Border Guards, the Traditional Contact Board of the provincial Border Guards held a meeting to mark the 60th anniversary of the glorious tradition of the border guards, the 30th anniversary of the Whole-People's Border Day and the 40th anniversary of the northern border defense fight.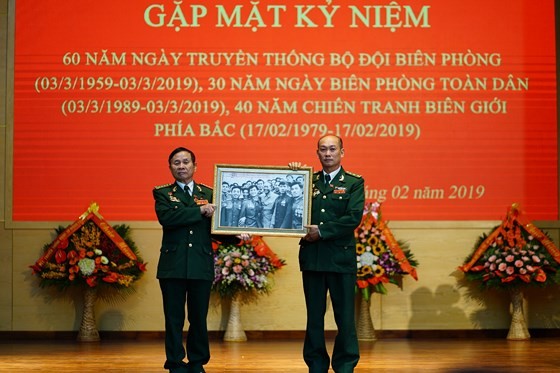 Veteran Pham Quoc Khuong gives a photo posing with former General Secretary of the Communist Party of Vietnam Le Duan after a border defense campaign in February, 1979 to the Contact Board of Quang Ninh province Border Guards.

A photo series was taken by Sai Gon Giai Phong Newspaper's reporters at Po Hen Border Post, Quang Ninh yesterday morning: