Custard apple farmers in the Bo Ly commune, Vinh Phuc Province, are thrilled with a bumper crop.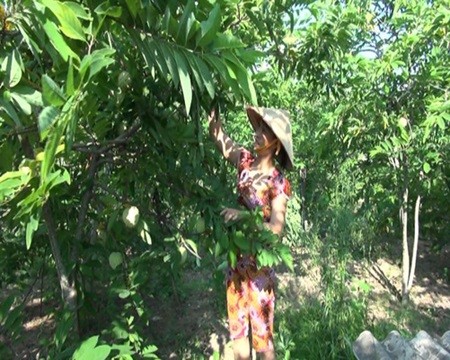 A farmer harvests custard apples in the Bo Ly commune, Vinh Phuc Province. The province's custard apple farmers are thrilled with a bumper crop. — Photo baotintuc.vn
Bui Huy Hung, 57, a local resident, said his family had sold more than ten tonnes of the fruit since the beginning of August.
"Everyday my family and I wake up at 4 or 5am to pick custard apples to sell ," Hung told Tin Tuc (News) newspaper.
The family could earn over ten million dong on a good day from custard apples, he said.
Since the beginning of the season, prices reached VND40,000-50,000 (US$1.7-2.2) per kilo. At harvest, the price is about VND30,000 ($1.3), Hung said.
Custard apple trees bear fruit after two or three years of growth. A tree produces on average 50 to 100 apples per year with harvest during the rainy season.
Hung helped his village to boost production of the fruit which in turn helped them escape hunger and poverty.
His family began growing these trees in 1980. With more than ten trees in their garden, his family couldn't eat all the fruit and began selling some at the market, he said.
"They were very easy to sell and we earned a lot of money," said Hung.
With the climate and soil being suitable for custard apple trees he decided to enlarge his garden after five years.
Now he has more than 1ha of the trees. He said that with this crop he could earn VND100 million ($4,400) this year.
Following Hung's success, many local households began growing this tree to have a stable income.
Pham Thi Sau, 50, said her family had been one of the poorest families in the commune.
Since growing custard apple trees her family's life had improved and they now had financial stability, she said.
Each year, they harvested nearly 700kg of fruit from 1ha of trees, she said.
Hundreds of families in Bo Ly commune were very happy with this year's crop as harvests had been poor in the past when they had to rely on good weather, Hung noted.
"Some of us learned new techniques from farmers in Bac Giang and Lang Son provinces," Hung said.
Tran The Van, head of the farmer's association in the commune, said there were over 300 families growing custard apple trees with more than 110ha which earned them a stable income.
However, he said the farmers here still needed more capital and training to increase productivity and quality and build their own brand.