The Hung Kings Temple Festival began April 14 in the northern province of Phu Tho to honor the ancient royals on the anniversary of their death.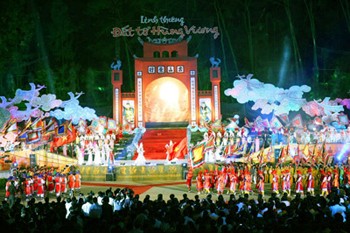 An artistic performance during the opening ceremony of the Hung Kings anniversary celebration on April 14 in Phu Tho Province (Photo: SGGP)
The start of the ceremony featured a resounding bronze drum performance together with flag dances, performances of national martial arts, and a parade of 18 palanquins (seats carried on poles).
Following each palanquin, which carried ancestral tablets of 18 Hung Kings, was a group of 18 people dressed in traditional Vietnamese costumes as a show of gratitude toward the kings.
Speaking at the opening ceremony, Deputy Prime Minister Nguyen Thien Nhan said the festival is a vivid symbol of Vietnam's great national unity and brings together the past, present and future of the country.
The anniversary and festival are also a demonstration of respect shown by the entire nation toward the ancestral kings – the founders of the country, said Mr. Nhan.  
The Hung Kings Temple Festival will take place over 10 days from April 14-23. The anniversary falls on April 23, or the 10th day of March on the lunar calendar, and is a national holiday in Vietnam.