The World Heritage Center has asked Vietnam to apply to UNESCO for recognition of Hue's Huong River as a world heritage site even as the river's beauty is being threatened by illegal exploitation of sand along its banks.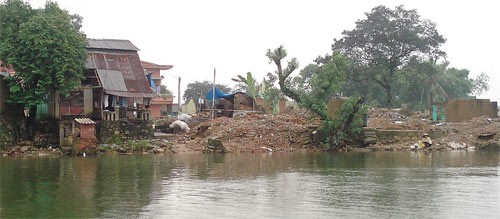 A view of one of many landslides that have occurred along the Huong River. Rampant illegal mining of sand is blamed for this problem (Photo: SGGP)
The sand along the river's upper course, the largest reserve in Thua Thien – Hue Province, has already been mined completely while demand for sand for construction is constantly increasing.
 
As a result, people are mining for sand wherever they can along the river.
 
Pham Huu Sanh, a land registry official in Phu Vang District, said barges of 70-100 cubic meters capacity have replaced small wooden boats in traveling to the river's lower course at 4 am to mine for sand in the last three months.
 
Hundreds of cubic meters of sand are being transported to Hue every day.
 
The river's banks have become barren and bereft of its biological diversity. Stretches of land on either bank from Huong Tho to Thuy Bang communes, which had been full of fruit trees, have been lost due to landslides. 
 
Hundreds of houses, including some recognized cultural and historical relics along the banks, like Bai Chau Fall, Dien Hon Chen and Quy Lai communal house, are likely to be lost in landslides at any time.
 
The uncontrolled exploitation has also narrowed and changed the river's flow and filled up its bed with sand.
 
Pham Viet Man, head of the province's Water Traffic Police Department, said over many barges illegally carrying sand have been caught and penalized.
 
The Huong River lies at the center of Hue's cityscape, with most relics relating to the imperial city being situated near it.