The People's Committee of Quang Nam Province has declared that local authorities have just given the Dong Duong Electric Joint-Stock Company permission to survey and report on the building of the "A Vuong 2" and "A Re" hydroelectric plants in Tay Giang District.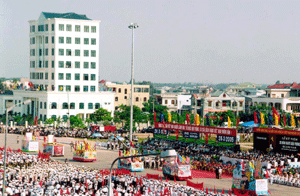 The center of Quang Nam Province
According to the survey, the A Vuong 2 Hydroelectric Plant will have 5.8 MW of power and an output capacity of 23.35 million kilowatt per year. It will need VND 105 billion (approximately US$ 7 million) in investment.
 
A Re Hydroelectric Plant will have 2.8 MW of power, giving an annual output of 11.68 million kilowatt with the investment of VND54 billion (approximately US$ 4 million).
 
The project will begin in 2008.