According to the Department of Construction in Gia Lai Province in the Central Highlands, investor of Ia Krel 2 Hydropower Plant had been careless with construction of the dam which resulted in the breach on June 12.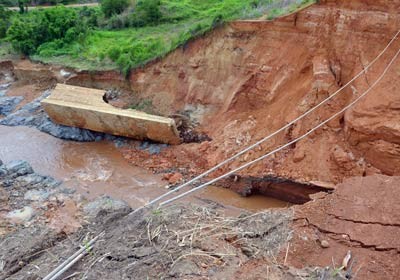 Careless construction caused the dam breach at Ia Krel 2 Hydropower Plant on June 12 in Gia Lai Province (Photo: SGGP)
The Department said that Bao Long-Gia Lai Industry and Hydropower Company had not hired an experienced consultancy unit and had been careless in the building of the dam that eventually breached, devastating vast areas of farm crops and forced several households to evacuate from Duc Co District.
Without proper consultancy, the company cut corners, changed the design and used unsuitable materials to construct the dam.
The drainage sewer was not built with seven sections as per design and should have been surrounded with a 50m layer of anti absorbent clay. Joints to link sections of the sewer were also made from low-quality materials. These then permitted water to soak into the dam walls.
The investor also did not invite authorized organs to examine and assess the quality of construction before accumulating five million cubic meters of water in the dam reservoir, which is half the maximum capacity.
 
All the above careless moves by the investor caused the dam to burst and devastate nearly 200 hectares of farm crops and disrupt 122 households. Total damages are estimated in excess of VND5 billion (US$238,000).
An inspectorate from various departments in the province also affirmed that the investor and execution units were responsible for the incident.
The inspectorate has proposed to the provincial People's Committee to penalize the company, ask them to build a new dam and destroy the remaining part of the burst dam, which has cracked after the incident.
Bao Long-Gia Lai Company has also been asked to fully compensate affected residents.

Related articles:
Hydropower Plants threat to Central Highlands
Dam breach in Gia Lai Province, two missing